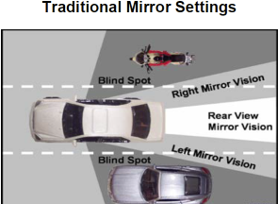 Do you know your blind spots? The importance of rear view mirrors.
REAR VIEW MIRRORS AND BLIND SPOTS
Every vehicle — sedan, SUV, truck, whatever, has one or more blind spots. That's why vehicles are equipped with rear view and side mirrors. More modern vehicles have driver-alert monitoring, lane change monitoring, and more. But these devices are no substitute for knowing where the blind spots are on your vehicle and how to avoid having a wreck because you failed to know about them and how to successfully deal with them.
In 1995, the Society of Automotive Engineers (SAE) published a research paper that recommended how you should adjust your side and windshield rearview mirrors to eliminate blind spots. That research showed that you should adjust the side mirrors as far outward as you can so that the viewing angle of the side mirrors just overlaps the view of the center rearview mirror. In this manner, you use the center rearview mirror to see what is coming up from behind, while the outside mirrors reflect the area outside the view of the center rearview mirror.
Here is the proper way to adjust your mirrors:
First, adjust your rearview mirror so that it frames the rear window. You should be able to see traffic flow to the rear of the vehicle with the rearview mirror.
Second, place your head against the driver's side window and adjust the driver's side mirror so you can barely see the driver's side of your vehicle.
Third, move your head as close to the center of the car as possible and adjust the passenger side mirror so you can barely see the passenger side of your car.
Fourth, To test your adjustments, watch a car pass you in the next lane. The passing car should be seen in your side mirror before it fully leaves the center rearview mirror. You should also detect the passing car in your peripheral vision before it leaves the outside rearview mirror. Always remember that the center inside rearview mirror is the primary mirror. Although it may take time to get used to not seeing the sides of your car in the side mirrors, it is very important for your rear-view mirrors to be in the correct position so that you can see as much as possible of the traffic behind you as well as those that might be in your blind spot.
You May Need A Lawyer To Recover Your Damages
Under Louisiana law, a crash victim has one year from the date of injury to file a lawsuit or, if possible, settle the case. When this one-year period expires, the crash victim loses the right to sue the wrongdoer for both economic and non-economic damages.
We are a boutique law firm consisting of Richard Kennedy and Richard Kennedy III. Is this important to you? You bet. Why? Because you will know who is representing you, we will keep you timely informed about your case and all the information that you need for us to do our very best to get justice for you. We answer our clients' calls and promptly answer their emails. The bottom line is simple: we and our clients work as a team and get to know each other on a personal — not just a professional — level. That is critical in building trust. So, if you need a lawyer, call us at (337) 232-1934 to get started.