Work with a Paralysis Injury Attorney to Secure Maximum Compensation for Your Injuries
A paralysis injury attorney at the Law Offices of Richard R. Kennedy in Lafayette, LA, can represent you or a loved one who is suffering from a paralysis injury sustained at work, in an auto accident, or other circumstance in which a third party was negligent. Paralysis is a severe, life-altering injury, both for the victim and his or her family. As such, our attorneys will provide you with aggressive representation to secure fair and just compensation for your losses. Contact our law firm today to meet with one of our attorneys for a thorough case review.
Common Causes of Paralysis
There are a number of different conditions that can cause paralysis. Trauma is just one of many causes of paralysis. Paralysis can result from a traumatic brain or spinal cord injury. These injuries are common in a variety of different types of accidents, including:
Construction accidents
Slip-and-fall accidents
Falling objects
Surgical errors
In the majority of cases, paralysis is the result of another party's negligence. This could include a drunk driver, negligent property owner, or reckless surgeon.
How Paralysis Affects the Entire Family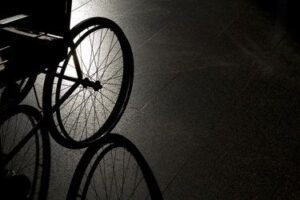 Paralysis affects the entire family—not just the victim. The injury may require extended hospital stays, multiple surgeries, and extensive physical therapy in an attempt to regain feeling and mobility in the affected areas. Wheelchairs are often a necessity and may require you to make modifications to your home and vehicles. These expenses are costly and place an excessive burden on the entire family. In most cases of paralysis, the victim is unable to return to work for an extended period of time, if not permanently. This loss of income adds to the financial burden of medical bills.
Paralysis is a severe, life-altering injury, both for the victim and his or her family.
A family member may need to take a leave of absence, typically without pay, to help care for the victim. This only adds to the economic hardship the family is already enduring. Because recovery is slow and sometimes painful for the victim, he or she may become irritable or depressed. This can cause stress and irritability in other family members as well, creating a tense environment. Compounded with the stress of mounting medical bills and compromised income, the injury takes a toll on the entire family.
Legal Counsel from Paralysis Injury Attorneys
Accidents involving brain and spinal cord injuries are complex, so it is wise to work with an attorney. At the Law Offices of Richard R. Kennedy, we focus on handling all aspects of your case, from gathering evidence to handling insurance companies, so you and your family can focus solely on your recovery. After determining the negligent party, we will aggressively seek compensation for:
The physical and emotional pain and suffering caused by your injury
Any and all medical expenses resulting from your injury
Loss of income due to an inability to work and earn wages
Loss of quality and enjoyment of life
Loss of consortium, or companionship, for your family
Schedule a Consultation to Discuss Your Case
If you or a family member is now paralyzed due to a negligent party, contact our law firm today to schedule your free case review. Our attorneys will evaluate your case and help you decide how to move forward.
We Fight to Win Fair Compensation
Legal deadlines, medical bills, lost wages, and the pain that lingers after an accident can build up and feel overwhelming. The Law Offices of Richard R. Kennedy in Lafayette, Louisiana, offer the peace of mind that comes with knowing you have diligent, committed personal injury attorneys on your side. Our injury lawyers, Richard R. Kennedy and Richard R. Kennedy III  are personally committed to success in every case they take. They have won millions on behalf of injured clients, such as a 1.7 million jury verdict for a collision between two 18-wheelers.
If you're interested in learning more about how our noted personal injury attorneys can help you, contact our law firm either by leaving a message online or calling: