An Experienced Bus Accident Attorney Can Successfully Assist Your Claim
Bus accidents occur for a variety of reasons and can lead to tragic outcomes. Because bus accidents differ from private vehicle accidents in important ways, a victim's claim must follow strict protocols in order to be successful. A bus accident attorney from the Law Offices of Richard R. Kennedy, headquartered in Lafayette, LA, can provide aggressive representation to ensure that you receive proper compensation for your injuries. Time is of the essence in these types of cases, and Richard Kennedy Sr. and Richard Kennedy III can begin their investigation immediately to determine the important aspects of your case.
If the victim does not meet the deadlines or files the wrong paperwork, he or she could lose the right to file a lawsuit.
Bus Accident Injuries
Some bus accidents can be minor with no injuries or a few minimal injuries like whiplash. Other bus accidents can involve very serious injuries, such as head trauma or spinal cord injury. Due to the unique nature of buses, when they crash there is a greater likelihood of a tip-over or rollover and buses usually lack safety belts and air bags. Victims of bus accidents can include the passengers, the driver, pedestrians, bicyclists, and the drivers of other vehicles involved in the crash.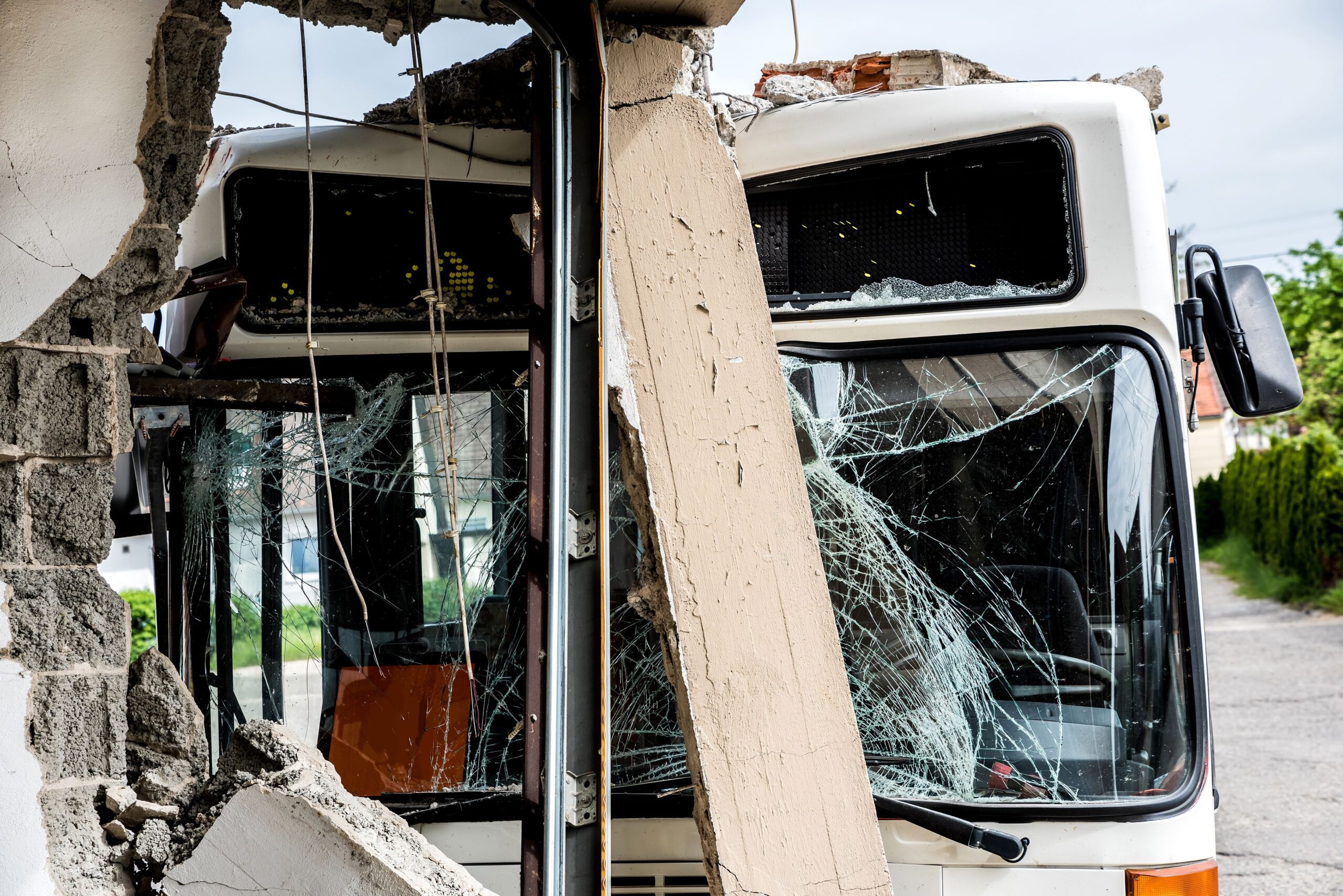 Factors That Can Contribute to Bus Accidents
Most times, the victims of a bus accident did not contribute to the cause of the accident. Some causes directly involve the driver, such as driver error, driver fatigue, distracted driving (including dealing with unruly passengers), driving under the influence of intoxicants, lack of proper training, improper loading of the bus, and speeding. Other factors can involve weather or poor road conditions. Poor maintenance on the bus, such as not replacing the brakes or tires on time, can result in an accident. Sometimes there can be issues with the design or manufacture of the bus that lead to an accident. Finally, some bus accidents can be caused by drivers of other vehicles.
Liability
If the negligence of another driver causes a bus accident, the victims can file a third-party claim with the driver's insurance company. When an accident is caused by the bus driver, the bus owner/operator can be held liable for the driver's negligence. Typical owner/operators include school districts, government entities, and private companies.
Bus accidents are very different from accidents involving private passenger vehicles. With private company owner/operators, establishing negligence can be straightforward, but the majority of bus accidents occur with government owned/operated buses. When the owner/operator is a government entity, including a school district, there are very specific procedures that have to be done in a timely manner to preserve a victim's right to a claim. If the victim does not meet the deadlines or files the wrong paperwork, he or she could lose the right to file a lawsuit. Due to this complexity, it is advisable for anyone injured in a bus accident to hire an expert attorney.
If poor road conditions are a factor in a bus accident, victims can file a claim against the government entity responsible for road maintenance. If there is a design defect in the road that contributes to a bus accident, the road designers and/or construction firms could be held liable. If a defect in the design or manufacture of the bus itself causes an accident, the bus designer or manufacturer could be held liable. You can count on Richard Kennedy Sr. and Richard Kennedy III to perform a thorough investigation that reveals any negligence that contributed to your accident.
Compensation
People who are injured in bus accidents can get monetary compensation for their injuries from parties that are held liable. Economic damages can include compensation for past and future medical expenses, lost wages, and loss of earning capacity. Compensation for non-economic damages can include past and future physical pain and suffering, past and future mental pain and suffering, and loss of consortium. Our firm has earned a reputation for helping victims collect due compensation.
Contact Us Today
If you or a loved one was injured in a bus accident, it is important to act quickly. Our vastly experienced personal injury attorneys can make sure that your claim is filed correctly, within the appropriate time frame. Contact our office today to schedule a consultation.
We Fight to Win Fair Compensation
Legal deadlines, medical bills, lost wages, and the pain that lingers after an accident can build up and feel overwhelming. The Law Offices of Richard R. Kennedy in Lafayette, Louisiana, offer the peace of mind that comes with knowing you have diligent, committed bus accident attorneys on your side. Our injury lawyers, Richard R. Kennedy and Richard R. Kennedy III  are personally committed to success in every case they take. They have won millions on behalf of injured clients, such as a 1.7 million jury verdict for a collision between two 18-wheelers.
If you're interested in learning more about how our noted bus accident attorneys can help you, contact our law firm either by leaving a message online or calling: