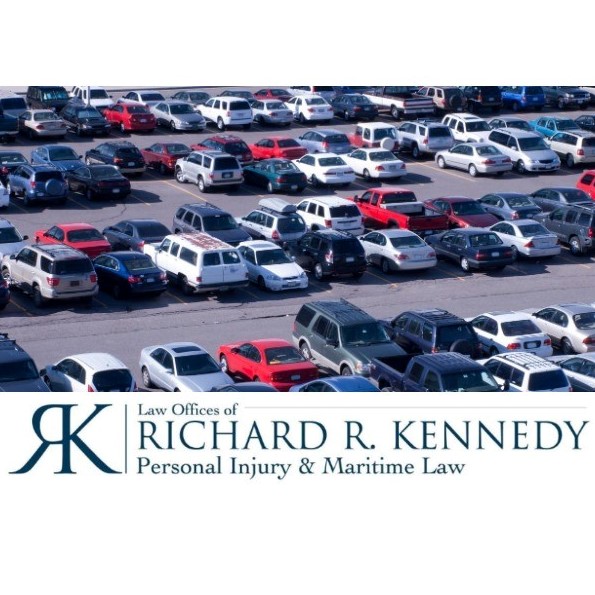 by Richard Kennedy
Louisiana law is not written in favor of those people who trip and fall or slip in fall in parking lots. While the standard of care is slightly lower than a slip and fall or trip and fall inside of a retail store, it is still very difficult to prove/win these cases. I will outline what is the standard of care, what questions must be asked in every case and my overall impression of what every injured person must be aware of when making a decision to pursue legal action against the parking lot owner and/or manager.
  Risk of Harm:
 In determining whether the risk of harm is unreasonable, there are numerous factors. The two main factors are:
The degree to which a danger may be observed by a potential victim. How easy is it to see?
The number of falls previously caused by the "alleged" defective condition.
Questions to be asked if its believed to be a deviation from the normal surface
While many questions are very case specific, here are a few questions that I ask in all cases.
Have falls been caused by this condition before? If so, how many and when?
Was the ground wet or dry?
Has my client been to this place before? If so, has my client walked past or over this "defect" before? Are they familiar with the parking lot and how so?
Was the "defect" located in a walkway or in an area where it would be anticipated people would be or could be expected to walk?
When the fall occurred, what was my client doing? Talking on the phone, distracted?
Louisiana Civil Code Article 2317.1 is our guide
Damages caused by "ruin, vice or defect" is fully described in this article.  The law states that the owner or custodian of the property is responsible for damages that occur due to the "ruin, vice or defect"  but only if we can show that the owner knew of the problem, or by "exercising reasonable care" that he should have known of the problem; AND that the problem could have been prevented or fixed by using reasonable care; AND that he failed to do so.
  Is there a fixed rule or standard to determine an Unreasonable Risk of Harm
No. There is no standard as each case is different, each fall is different, and the specific facts are unique to each case. Therefore, a judge or jury must determine if the "thing" presents an unreasonable risk of harm. It will determine whether the social value and utility of the hazard outweigh and justify its potential harm to others.[1] So the judge or jury will determine if the alleged defect presents an unreasonable risk of harm based on those case specific facts.[2]
 Irregularities in surfaces are common
It is common for streets, sidewalks, driveways, and parking lots to have deviations and not perfectly smooth surfaces – irregularities. Courts have recognized this and noted that it is not the duty of the owner of these locations to eliminate all variations in elevations along the cracks, seams, joints, and curbs. These surfaces are not required to be smooth and free from deviations because to require that would be impossible.[3] But the defendant landowner can't rely on this "unreasonable analysis" alone.
            Not every minor imperfection or irregularity in the "thing" or spot of the fall is a defect that gives rise to delictual responsibility.  That irregularity or imperfection must be of such a nature as to constitute a dangerous condition which would reasonably be expected to cause injury to a regular person exercising ordinary or normal care, meaning a regular person behaving normally and walking normally in that particular situation.[4]  The law only requires property owners to keep their property (premises) in a safe condition for use in a manner consistent with the purpose for which the property is intended to be used.[5]  So you can see that is a general statement from the courts and now understand why each case is fact specific. 
What makes it unreasonable
The answer is a mixture of facts and law. The judge or jury will ultimately determine if the area of the fall presented an unreasonable risk of harm. Many items are taken into consideration and because it requires a balancing of the risk and utility of the area, it is not a simple rule of law that can be applied to the facts of all cases. So the facts and circumstances of each case must be considered in making this determination.[6]
 Does the size of the crack or deviation matter?
Yes it does!  A crack of less than 1/8" wide and a height difference of ½" that caused a
person to fall and no known history of falls at that spot was noted, was found by the court to not be sufficient enough to make the landowner liable.[7]
            Why would the courts and law support un-smooth parking lots in many cases?  Many courts follow this – the cost to eliminate all such minor defects is too much; the cost to keep surfaces free from defects is impossible and cost prohibitive.[8]
Conclusion
So what does this all mean? Trip and fall cases are difficult to win. Courts have stated that each case must be evaluated on its own facts and circumstances. The law seems to favor the property owner. Is the spot where you fell one of those cost prohibitive acceptable defects referenced above? Have others fallen there and been injured? These are all questions that should be answered to know if you have a claim or not. I have handled trip and fall cases and would be honored to evaluate your situation.
---
[1] Reed v. Walmart Stores, Inc., 97-1174 (La. 3/4/98), 708 So.2d 362.
[2] Johnson v. Brookshire Grocery Co., Inc., 32,770 (La. App. 2d Cir. 3/1/00), 754 So.2d 346, writ denied, 00-0938 (La. 5/26/00), 762 So.2d 1107.
[3] Reed
[4] Deville v. State Farm Ins. Co., 617 So. 2d 1255 (La.App. 3 Cir. 1993).
[5] Kerry v. Basco, 96-289 (La.App. 3 Cir. 10/9/96); 687 So. 2d 420.
[6] Dupree v. City of New Orleans, 99-3651 (La. 8/31/00), 765 So.2d 1002; Waller v. Shelter Mut. Ins. Co., 41,215 (La. App. 2d Cir. 6/28/06), 935 So.2d 288.
[7] McGehee v. Seville Square Condominiums Homeowners Association, Sabrier, and Scottsdale Insurance Company, No. 2002 -CA – 719 (La. App. 1 Cir. 12/11/02), 836 So.2d 306
[8] Reed.